The waterfront single-family home in Park Shore/ Moorings/ Coquina Sands has been appreciating nicely along with the rest of the waterfront markets in Naples in 2013. Statistics show that this area is keeping pace with Aqualane Shores and is experiencing a shortage of inventory regarding viable lots and spec homes. Currently there are only 14 active homes available on the water in the Park Shore/ Moorings/ Coquina Sands neighborhoods (4201 Crayton Road) being the least expensive priced at $1.795m. This area has been experiencing a very active market going all the way back to 2009. Several records have been set in 2013 including highest price paid in May of 2013 for 211 Bay Point, achieving a sales price onf $5.5m or $1061 per square foot and an overall average sales price of $3.03m. Obviously 2013 is not over and there appears to be demand building as many buyers have been waiting for new product to come on the market or for prices to stablize before making a decision to purchase. Taking a look at satistics between now and 2009 the market has shown serious strength even through some of the slower years experienced in the rest of the market. The chart below is a breakdown of the market showing total volume in sales, number of sales, average sales price, average days on the market, highest price paid for that year, and the number of sales above $3m for each year. There were a few suprises including volume of $76.09m in 2011 and the consistancy in highest price achieved for each year. Despite 2013 being a banner year so far volume has been subdued by lack of inventory. In the subsiquent years choices were bountiful in comparison making it much easier for buyers to choose what they wanted.


I attribute some of the success of the Park Shore/ Moorings/ Coquina Sands waterfront areas to the change of demographics over the past 7-10 years in Naples. The average age has decreased significantly with more familys making Naples thier perminant residence. In comparison to a community like Aqualane Shores, Lots on average are a little larger, views are bigger, and the neighborhood is a bit more centrally located making travel time to school and events easier.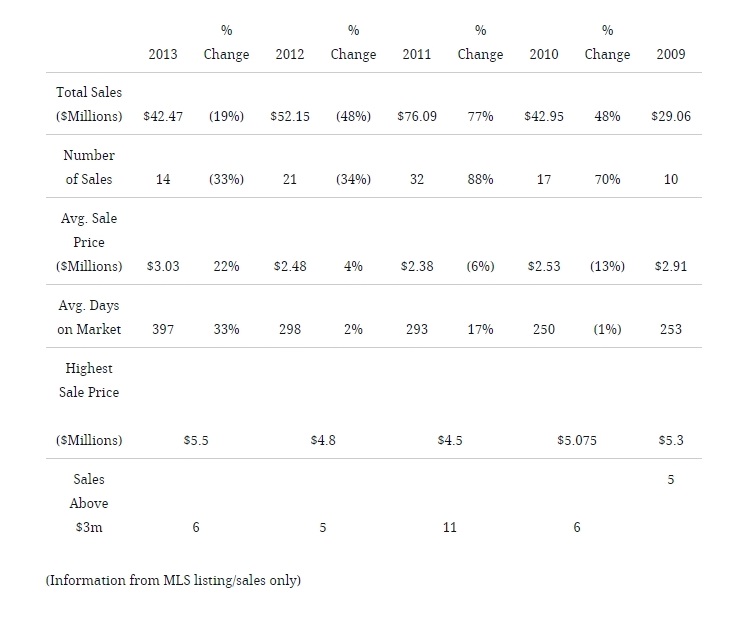 If you would like more information on waterfront property in Port Royal, Aqualane Shores, or the Crayton Road areas please contact Adam Carriero at
adam@gcipnaples.com
or
239-641-3876
.